Kylie Jenner says she doesn't want her children to copy what she's done with cosmetic surgery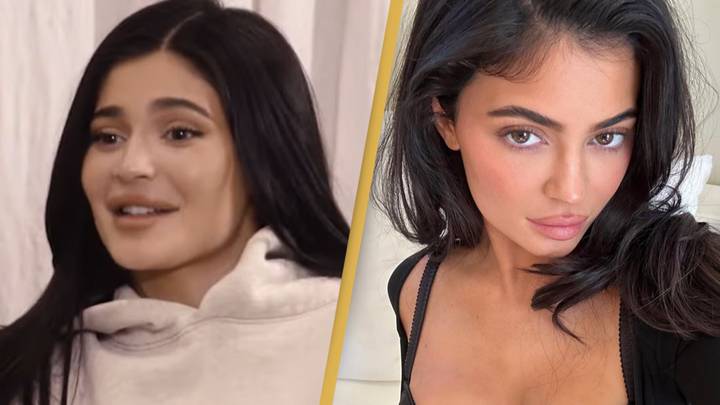 Featured Image Credit: Disney/Instagram/@kyliejenner
Season three of The Kardashians is on the way, with more laughs, tears and, of course, drama coming to Hulu very soon.
The third season of the hit reality TV show will also be available to watch on Disney+ internationally and Star+ in Latin America on 25 May.
A synopsis of the upcoming season reads: "The cameras return as Kris, Kourtney, Kim, Khloé, Kendall and Kylie invite viewers back into their lives as they navigate motherhood, coparenting, and building their own empires.
"Their bond will be tested and tensions arise, but as a family they will stand together through the storm."
In the recently released trailer for the latest season, Kylie Jenner appears to have admitted she has made a mistake with some of her cosmetic surgery.
In particular, Jenner seemingly regrets having her face altered with injectables.
As per the season three trailer, she says: "All of us just need to have a bigger conversation about the beauty standards that we're setting."
The 25-year-old then adds how she doesn't want her five-year-old, Stormi, to follow in the same footsteps as her when it comes to cosmetic surgery.
"I don't want my daughter to do the things I did," Jenner adds before she is then seen speaking with pal Stassie Karanikolaou, admitting: "I wish I never touched anything to begin with."
The Kylie Cosmetics founder spoke about how being a mother has changed her approach to beauty in an interview with HommeGirls earlier this month.
She said: "It's [approach to beauty] changed so much. It's made me love myself more. I see my features in my daughter and my son now, but you know, my daughter looks like me.
"I get to see my beauty in her, and it's made me love myself more for sure. Beauty is always changing for me."
Giving advice to Stormi, Jenner added: "She's perfect the way that she is. Be confident, always be confident in yourself."
Elsewhere in that interview, Jenner spoke about how much cosmetic surgery she has had done.
"I think a big misconception about me is that I've had so much surgery on my face and that I was some insecure person, and I really wasn't!" she said.
"I got lip filler, and it was the best thing I've ever done. I don't regret it. But I always thought I was cute."