Jonah Hill has taken to Instagram to clarify whether or not he's really engaged to his girlfriend, surfer Sarah Brady.
The actor is known for using his social media to call out websites and publishers controversial headlines or stories about him, from outing the MailOnline for commenting on his appearance, to responding to 'years of public mockery'.
The 38-year-old has since used Instagram to speak out about engagement rumours that have floated round, and done it in the most Jonah Hill way possible.
Captioning the image, 'Media stop writing fake stuff it's corny,' Hill confirmed that the 'rumours are not true'.
'I am engaged. But not to my girlfriend. I am engaged to your mom. I know this is shocking but please respect our privacy at this time,' he wrote.
He also tagged the location of the post to 'Your Mom's House'.
Immediately bringing back hilarious memories of Superbad and the reasons we love him, Hill has once again slayed in the best way against fake news being spread about him.
While they're not engaged, the Oscar-nominated actor did share a black and white image of himself and Brady looking extremely loved up, which the star posted on Valentine's Day.
He wrote: 'Valentine Goddess . Thank you for endless new adventures and for teaching me new lessons every day. Thanks for the chance to grow and evolve and be better every day.'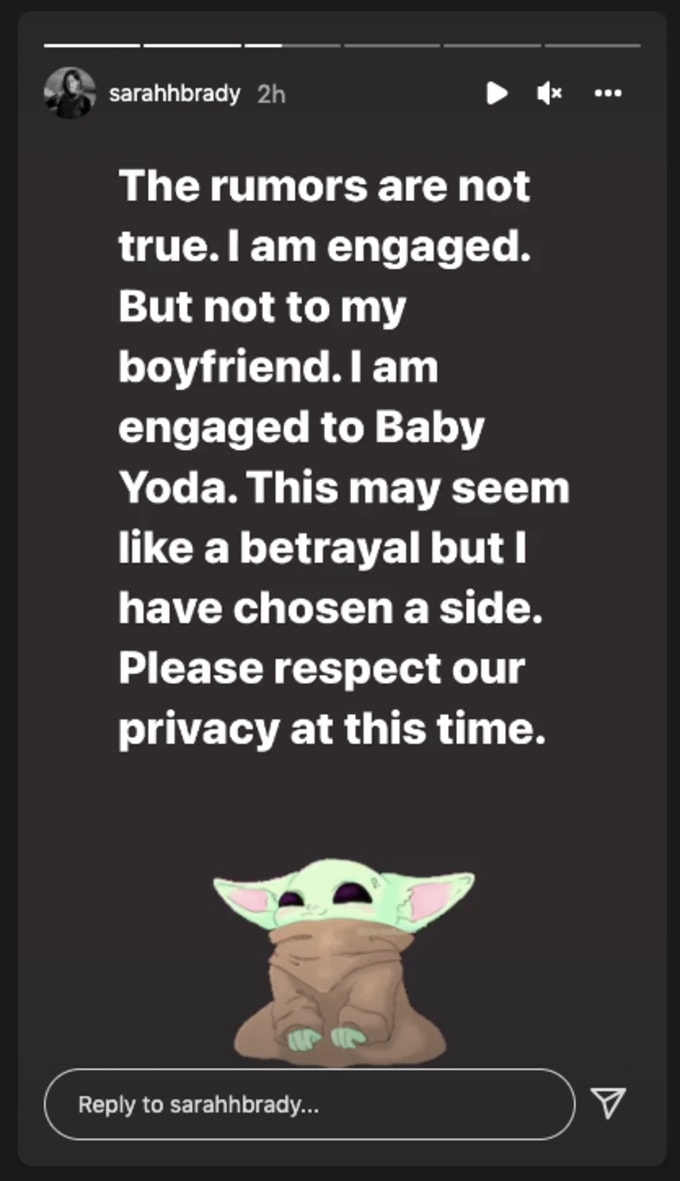 Brady also chimed in on the engagement joke, taking to Instagram to not only share a similar statement, but to reference Hill's apparent beef with none other than Baby Yoda by saying she's actually engaged to the little green guy.
A few weeks back, Hill appeared on Instagram a black eye. While at first appearing to clear the Child's name in whether or not Baby Yoda was guilty of giving him said injury, Hill went on to challenge the Mandalorian foundling to a rap battle, because why not?
'I'm going to say this once, and once only, this black eye is from my surfboard, it is not from a fist fight that I got into with Baby Yoda because of our falling out.'
However, taking to the comments, he wrote: 'That being said I do officially challenge Baby Yoda to a @verzuztv battle. And @disneyplus definitely did NOT pay me off to protect the fact that one of their marquee stars has a big mouth and would definitely catch hands if he didn't sucker punch me with his little baby green fist.'
Hill and Brady started dating last year, and while the pair aren't engaged yet, they seem pretty loved up – Baby Yoda beef aside.