Johnny Depp Won't Get Full $15 Million In Damages
Featured Image Credit: Alamy/Law & Crime Network
Johnny Depp won his defamation trial against Amber Heard on Wednesday afternoon, 1 June, meaning the 58-year-old will now be awarded millions in damages.
He was awarded a total of $15 million in damages, but will end up with less than the sum initially quoted in court.
The conclusion of the trial, which has dominated headlines for the past six weeks, was delayed by 15 minutes due to improperly filled out forms by the seven-member jury.
However, when all of the formalities were completed, the jury delivered a unanimous verdict in Depp's favour, announcing that the Pirates of the Caribbean star would be awarded $10m in compensatory damages and $5 million in punitive.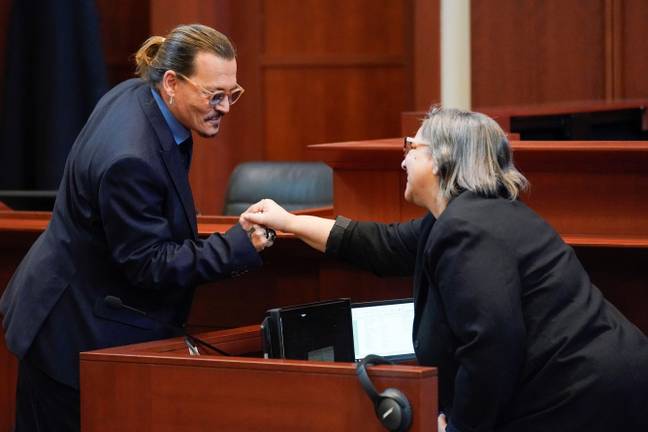 They also state that the net amount that he gets will be more around $8 million, as Heard will be awarded $2 million in damages thanks to one of her competing claims.
While not present in the court on what was a momentous day for the actor and his team, he did claim to be 'watching from the United Kingdom', according to a Vulture source.
WRT verdict: #JohnnyDepp won his trial—jury awarded 15 m, 10 in compensatory, 5 in punitive, but under VA law, punitive capped at 350k, so he gets just over 10m. However, #AmberHeard won 2m for one of Waldman's statements. so he gets abt 8m... via @vulture https://t.co/io7TCuEoiG

— Victoria Bekiempis (@vicbekiempis) June 1, 2022
This has since been confirmed, as Depp was spotted outside of a Newcastle pub in the immediate aftermath of the verdict.
Depp has been touring with Jeff Beck in England this week, playing shows up and down the country.
Heard, meanwhile, was present in court, and a spokesperson for her remarked: "Your presence shows where your priorities are.
"Johnny Depp plays guitar in the UK while Amber Heard waits for a verdict in Virginia. Depp is taking his snickering and lack of seriousness on tour."
The conclusion of the trial ends a six week-long global fixation on one Virginia court room, where live stream records have regularly been broken.
On Wednesday, one YouTube live stream of the event reached a peak of 2.5 million viewers for the final verdict, which is one of the platform's biggest ever live audiences.
While the financial windfall is significant for Depp, both he and his team consistently stressed that the sole intention of the trial was to repair his sullied reputation.