Academy award nominated actor Djimon Hounsou is 'struggling to make a dollar'
Featured Image Credit: Stills Press / Moviestore Collection Ltd / Alamy Stock Photo
Shazam! Fury of the Gods star Djimon Hounsou may have been nominated for two Academy Awards, but has recently said he struggled to make it in Hollywood.
After recently starring as The Wizard in Shazam! Fury of the Gods, the DC star opened up on feeling 'seriously cheated' by the industry despite his success.
"I felt seriously cheated," he said in an interview with The Guardian.
"Today, we talk so much about the Oscars being so white, but I remember there was a time where I had no support at all: no support from my own people, no support from the media, from the industry itself.
"It felt like: 'You should be happy that you've got nominated,' and that's that."
Hounsou, who also stars in the Marvel Cinematic Universe as Korath the Pursuer, explained that he is still having a hard time trying to support himself in the business.
"I'm still struggling to try to make a dollar!" he said.
"I've come up in the business with some people who are absolutely well off and have very little of my accolades. So I feel cheated, tremendously cheated, in terms of finances and in terms of the workload as well."
However, the actor said things are slowly improving as to how he's regarded in Hollywood.
"From time to time, they themselves make the point of saying: 'We should give him more, he's a little under appreciated.' I think they recognize that themselves," Hounsou continued. "Hey, it's the struggle I have to overcome!"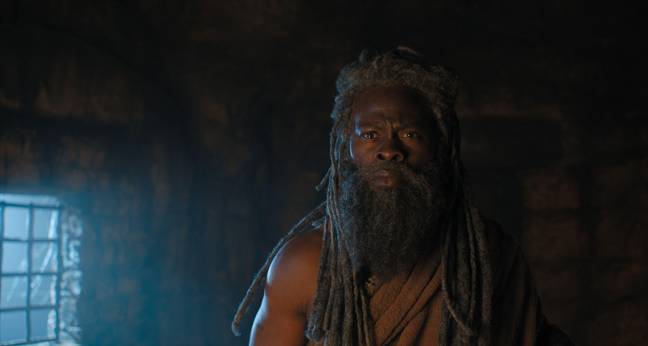 The Everything Everywhere All at Once star received a Best Supporting Actor award for the role of Waymond Wang in the movie by the Daniels, giving an emotional speech in which he looked back on his career struggles.
Following his success in Indiana Jones and the Temple of Doom as a child actor, Quan's phone didn't ring with new, exciting roles for a while.
In his acceptance message, the actor encouraged everyone to not give up on their dreams and gave a shoutout to his wife Echo, who stood by him during the darkest moments of his career.
"I owe everything to the love of my life, my wife Echo, who month after month, year after year for 20 years told me that one day, my time will come. Dreams are something you have to believe in. I almost gave up on mine," Quan said.