Amy Schumer Says Will Smith's Slap Was Because Of 'Toxic Masculinity'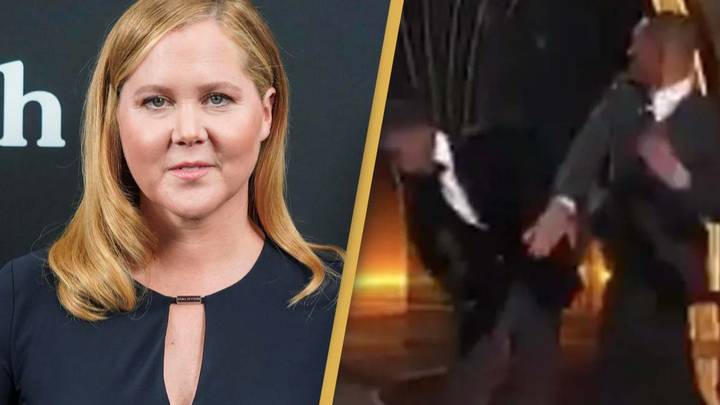 Featured Image Credit: Alamy/ABC
Amy Schumer has spoken out about Will Smith's altercation with Chris Rock at the Oscars, again.
Having previously stated that she was 'triggered and traumatised' by the slap, stand-up comedian and actor Schumer has addressed the controversy once again at her sold out stand-up show at Las Vegas' Mirage Theatre on Saturday, 2 April.
Schumer explained that she was still processing the events which unfolded at the Oscars and didn't really 'know what to say,' coming up dry with 'no jokes about it,' as per Hollywood Reporter.
Referring to Smith's role as Cassius Clay in 2001 film Ali, the comedian said: "I was kind of feeling myself … and then all of a sudden Ali was making his way up.
"And it was just a f***ing bummer. All I can say is that it was really sad, and I think it says so much about toxic masculinity. It was really upsetting, but I think the best way to comfort ourselves would be for me to say the Oscar jokes that I wasn't allowed to say on TV."
Dear white women, please stop centering yourselves in the Will Smith situation. All of your reframing is racist, ie, asking is Will Smith's defenders would be okay if he slapped Amy Schumer if she had told the joke. That reframing is disgusting. Stop it. #WillSmith #Oscars2022 pic.twitter.com/rYEurY3Uqu

— AAYAN X (@AAYANFIXMYLIFE) March 30, 2022
Schumer went on to detail some of the lines she didn't get to say at the awards, such as a quip about the accident which occurred on the set of Rust which saw Alec Baldwin accidentally fire a loaded prop gun, resulting in the tragic death of cinematographer Halyna Hutchins.
Schumer said: "Don't Look Up is the name of a movie, more like don't look down the barrel of Alec Baldwin's shotgun.
"I wasn't allowed to say any of that but you can just come up and [clock] someone."
amy schumer: "traumatised" by will smith slapping chris rock

also amy schumer: wants to make a joke about someone's death and cause further trauma to halyna hutchins' family... https://t.co/avoR0gfT7g

— james 🤟 (@twdjxmes) April 4, 2022
Schumer previously took to Instagram in a since-deleted post to stand up for her 'friend' Rock.
She stated that she thought the presenter 'handled it [the altercation] like a pro,' and called the whole incident 'disturbing'.
She said: "So much pain in [Will Smith], anyway I'm still in shock and stunned and sad.
"I'm proud of myself and my co-hosts. But yeah. Waiting for this sickening feeling to go away from what we all witnessed."